Welcome
भारतीय कृषि अनुसन्धान परिषद - कृषि तकनीकी अनुप्रयोग संस्थान, जोधपुर.

ICAR - Agricultural Technology Application Research Institute, Jodhpur : An Overview
The Indian Council of Agricultural Research (ICAR) is an autonomous organisation under the Department of Agricultural Research & Education (DARE), Ministry of Agriculture and Farmers Welfare, Government of India. Agricultural Extension Division is one of the Subject Matter Divisions where the major activities are of Assessment, Refinement and Demonstration of Technology/Products through a network of 648KrishiVigyanKendras (KVKs). The Division of Agricultural Extension, ICAR, New Delhi is headed by Deputy Director General (Agricultural Extension) supported by 2 Assistant Director Generals. The thrust areas of Agricultural Extension Division are:
Assessment, refinement and demonstration of technology/products.
Training of practising farmers, farm women and vocational training for rural youth.
Training of extension personnel.
Single window delivery system for technology products, diagnostic services and information through, Agricultural Technology Information Centres (ATICs)
Development of gender-specific technologies, and
Creating awareness of improved agricultural technologies among the farmers.
Technology Application, assembling and feedback
Institution building and partnership
ICAR-Agricultural Technology Application Research Institute (ATARI), Jodhpur is one of the 11 ICAR-ATARIs formerly known as Zonal Project Directorates (ZPDs) functioning under Division of Agricultural Extension. ICAR has established a vast network of KVKs all over the country under the administrative control of various ICAR institutes, State Agricultural Universities (SAUs), State Department of Agriculture, Non-Governmental Organisations (NGOs) and other institutes for implementing the central governmental projects/schemes. In the Zone, 7 Agricultural Technology Information Centres (ATICs) are working for delivering the "Single Window" delivery system. Since, Zonal Project Directorate has been elevated as ICAR-Agricultural Technology Application Research Institute (ATARI), the mandates of ICAR-ATARI has also been changed where socio-economic research is one of the integral components.
Mandates of ICAR-ATARI
Coordination and Monitoring of Technology Application and Frontline Extension Education Programs.
Strengthening Agricultural Extension Research and Knowledge Management.
Mandate and Activities of KVKs
The mandate of KVK is technology assessment and demonstration for its application and capacity development.To implement the mandate effectively, following activities are envisaged for each KVK.
On-farm testing (OFTs) to assess the location specificity of agricultural technologies under various farming systems.
Frontline demonstrations to establish production potential of technologies on the farmers' fields.
Capacity development of farmers &extension personnel to update their knowledge &skill on modern agricultural technologies.
To work as knowledge and resource centre of agricultural technologies for supporting initiatives of public, private and voluntary sector in improving the agricultural economy of the district.
Provide farm advisories using ICT and other media means of varied subjects of interest to farmers.
KVKs Functioning under ICAR-ATARI, Jodhpur
| Rajasthan | No. of KVKs | Haryana | No. of KVKs | Delhi | No. of KVKs |
| --- | --- | --- | --- | --- | --- |
| SKRAU, Bikaner | 4 | HAU, Hisar | 14 | | |
| MPUA & T, Udaipur | 7 | | | | |
| SKNAU, Jobner | 8 | | | | |
| Agricultural University, Jodhpur | 6 | | | | |
| Agricultural University, Kota | 8 | ICAR-NDRI, Karnal | 2 | | |
| ICAR-CAZRI, Jodhpur/DRMR, Bharatpur | 3 | ICAR-IARI, New Delhi | 2 | | |
| NGOs | 6 | NGOs | 18 | NGOs/PSU | 1 |
| Total | 42 | Total | 18 | Total | 1 |
Major Functions of ICAR-ATARI
Planning, implementation, monitoring and reviewing of KVK activities.
To identify, prioritize and implement various activities for technology integration and dissemination.
Coordinating with SAUs, ICAR institutes, line departments and NGOs in the zone for implementation of KVK mandates and activities.
Facilitating financial and infrastructural support to KVKs for effective functioning.
Major Thrust Areas
Sustainable farming system through location-specific technology assessment, refinement and demonstrations.
Resource conservation through soil-water conservation, watershed management and mechanization.
Development and promotion of crop and enterprise diversification and alternate land use system.
Popularization of Integrated Pest Management, Integrated Nutrient Management, Integrated Water Management and programmes.
Promoting rural entrepreneurship in crop, horticulture, livestock, goatery, poultry, fishery, mushroom, etc. by production, processing, value addition and marketing for higher income.
Empowerment of farmwomen and youth through income generating activities and reduction of drudgery.
Alternate livelihood support system for marginal, landless labour and farmwomen to check rural migration.
Jurisdiction of ICAR-ATARI, Jodhpur
Agro-Climatic Zones in ICAR-ATARI, Jodhpur
Agro-climatic zone of Rajasthan
Zone
Agro-Climatic Zone
District
Rainfall (mm)
Climate
Soil
Important Crops Grown
I a
Arid western plains zone
Jodhpur
Barmer
100 - 370
Arid
Aridisol, Entisol
Pearl-millet, Green Gram, Moth Bean, Cluster Bean, Ber, Lasoda and Ker
I b
Irrigated north western plain zone
Hanumangarh
Sriganganager
100 - 350
Arid
Aridisol, Entisol
Wheat, Gram, Mustard, Cotton, Kinnow, Citrus
I c
Hyper arid and partially irrigated western plain
Bikaner
Jaisalmer
Churu
100 - 350
Arid
Aridisol, Entisol
Pearl millet, green gram, moth bean, cluster bean, gram, ber, datepalm and aonla
II a
Transitional plain of inland drainage
Sikar
Nagaur
Jhunjhunu
300 - 500
Semi-Arid
Aridisol, Entisol
Pearl millet, green gram, moth bean, cluster bean, groundnut, wheat, barley, ker, lasoda
II b
Transitional plain of Luni basin
Jalore
Sirohi
Pali
300 - 500
Semi-Arid
Aridisol, Entisol, Hills and inceptisols
Cumin, green gram, moth bean, cluster bean, wheat, barley, cotton, gram, pomegranate, aonla
III a
Semi-arid eastern plain
Jaipur
Ajmer
Tonk
Dausa
500 - 700
Semi-Arid
Entisols and alluvium soils
Groundnut, jowar, mustard, gram, green gram, moth bean, wheat and barley, ber, citrus
III b
Flood prone eastern plain zone
Alwar
Bharatpur
Dholpur
500 - 700
Semi-Arid
Inceptisols, Entisols and Vertisols
Mustard, pigeon pea, gram, wheat, barley, mango, citrus
IV a
Sub humid southern plain & Aravalli hill zone
Bhilwara
Chittorgarh
Rajsamand
Udaipur
500 - 900
Sub - Humid
Inceptisols, Entisols , Vertisols and Hills
Groundnut, jowar, maize, gram, green gram cotton, mustard, black gram, and soybean, papaya, guava
IV b
Humid southern plain
Banswara
Dungarpur
525 - 1000
Humid
Vertisols, Alfisols and hills
Cotton, soybean linseed, maize paddy, wheat, gram, mustard, guava
V
Humid south eastern plain
Kota
Bundi
Jhalawar
Baran
S. Madhopur
Karauli
650 - 1000
Humid
Vertisols
Sorghum, maize, cotton, paddy, sugarcane, soybean, wheat, gram, mustard. Guava, citrus
Agro-Climate Zone
Zone
Agro-Climatic Zone
District
Rainfall (mm)
Climate
Soil
Important Crops Grown
1
South Gujarat Heavy rainfall
Dangs
Valsad
1500 - 2000
Sub Humid Semi - Arid
Deep black, costal alluvium
Paddy, wheat, pigeon pea, ragi, potato, groundnut, green gram, gram, mango, sapota
2
South Gujarat medium rainfall
Surat
Bharuch
1000 - 1500
Sub humid semi arid
Deep black, costal alluvium
Pigeon pea, cotton, sorghum, drilled and transplanted paddy, banana and sugarcane, mango, sapota
3
Middle Gujarat
Anand
Panchmahal
Dahod
Vadodara
800 - 1000
Semi - Arid
Medium black, sandy loam, clay loam and clay
Pearl millet, pulse, maize, drilled and transplanted paddy, tobacco, cotton, wheat, ber, aonla, banana
4
North Gujarat
Banaskantha
Gandhinagar
Ahmedabad
Sabarkantha
Mehsana
MehsanaPatan
500 - 1000
Arid, Semi - Arid
Gray brown costal alluvium
Pearl-millet, sorghum, cotton, groundnut, castor, sesame, wheat, pomegranate, aonla, sapota
5
North West
Kutch
250 - 500
Arid
Gray brown, deltic alluvium
Pearl-millet, sorghum, cotton, groundnut, castor, sesame and datepalm
6
North - Saurastra
Amreli
Bhavnagar
Jamnagar
Rajkot
Surrendernagar
400 - 700
Semi-Arid
Medium black, calcareous
Pearl-millet, sorghum, cotton, groundnut, sapota, ber
7
South Saurasthara
Junagarh
Porbandar
Morbi
750 - 1000
Dry, Sub-humid
Medium black, costal Alluvium
Pearl-millet, sorghum, cotton, groundnut wheat sugarcane, sapota, ber
8
Bhal and Coastal
Ahmedabad
Bhavnagar
Kheda
650 - 700
Semi - Arid
Medium black, coastal saline
Cotton, sorghum, wheat, gram, aonla, citrus
Demographic Features of Rajasthan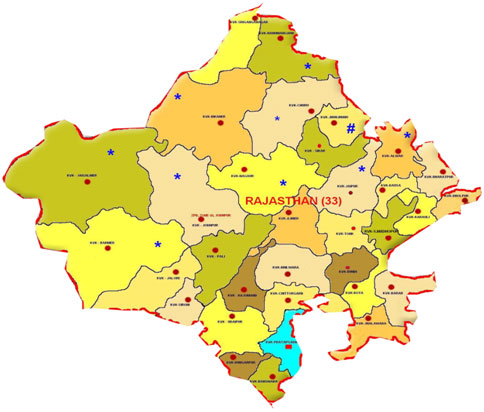 | Districts | Rainfall (mm) | Population (Million) | Live - Stock (Million) | Area (lakh) sq.km. |
| --- | --- | --- | --- | --- |
| Jodhpur, Barmer, Hanumangarh, Sri Ganganagar, Bikaner, Jaisalmer, Churu, Sikar, Nagaur, Jhunjhunu, Jalore, Sirohi, Pali | 100 - 450 | 23.3 | 26.5 | 2.14 |
| Jaipur, Ajmer, Tonk, Dausa, Alwar, Bharatpur, Karauli, Dholpur | 500 - 700 | 17.25 | 9.97 | 0.55 |
| Bhilwara, Chittorgarh, Rajsmand, Udaipur, Banswara, Dungarpur, Kota, Bundi, Jhalawar, Baran, S. Madhopur | 800 - 1000 | 15.90 | 16.04 | 0.94 |
Demographic Features of Rajasthan
| Districts | Rainfall (mm) | Population (Million) | Area (lakh) sq.km. |
| --- | --- | --- | --- |
| Kutch, Jamnagar, Rajkot andSurendranagar | 250 - 500 | 8.11 | 0.81 |
| Amreli, Bhavnagar, Junagadh,Morbi, Porbandar, banaskantha, Gandhinagar, Ahmedabad, Sabarkantha, Mehsana, Patan andKheda | 550 - 750 | 17.25 | 0.73 |
| Dangs, Valsad, Navsari, Surat, Bharuch, Anand, Dahod, Vadodara, Panchmahal and Narmada | 800 - 2000 | 15.90 | 0.44 |